Eau Fraiche
by Christian Dior: launched in 1953. Created by Edmond Roudnitska.
When the fragrance was sold in the United States, it's name was changed to Eau de Cologne Aux Fleurs Fraiches instead of Eau de Cologne Fraiche de Christian Dior (it's name when it was sold in Europe).
Fragrance Composition:
So what does it smell like? It is classified as a refreshing citrus fragrance with an herbal chypre accord. It is recommended for daytime use during summer.
Top notes: mandarin orange and lemon
Heart notes: rosewood
Base notes: vanilla and oakmoss
Bottles:
Bottles: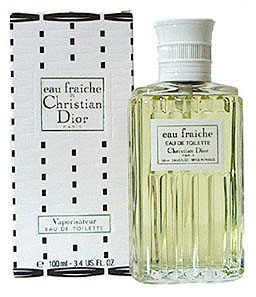 photos by bbbd


Fate of the Fragrance:
This original fragrance has been discontinued, but in 2009, it was reformulated and relaunched as a limited edition.